Custom Connector Grips
MILITARY APPLICATIONS:
MS90561 – CONNECTOR GRIPS

QPL LISTED 22992
CRES-18-8 STAINLESS STEEL CONNECTOR GRIPS
DFARS COMPLIANT MATERIAL
CERTIFIED TO MIL-STD-790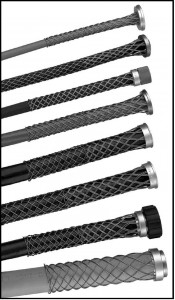 CUSTOM DESIGNED
Power & Control Cable Strain Relief
Use with all connector types, cord sets and assemblies to remove strain, vibration, flexture, or motion.
Custom designed to mate with specially shaped or sized electrical connectors.
Eliminates direct tension from terminal, thus removing strain from critical electrical connections.
Connector grips extend the life of electrical systems and add safety.
Stainless steel grips are corrosion free.
Eliminate rigid fatigue points.
Prevents pull tension, thus reducing cable pull out and system down time.
Can be adapted to any connector including fiber optic cable.
Collars available in aluminum or stainless steel.
Multi-weave grip feature controls uniform arc or bend control.