Support Grips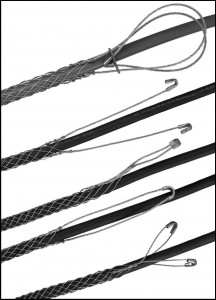 Designed to hold the weight for electrical cable as it hangs in vertical, sloping or horizontal positions.
Easily installed and removed using no special skills or tools.
Permits cable to expand and contract without loss of holding action.
Instantly relocated or repositioned which saves time and labor.
Conforms to shape of cable or object being supported.
Used on any application such as supporting cable, metal rods, hose, and tubing. Specific applications include buildings, poles, excavations, mine shafts, towers, elevators, potheads, terminators, or other structures.
When selecting the correct support grip, refer to the list below to determine the grip style best suited for your application.
Determine your cable outside diameter.
Find the grip size that encompasses your cable diameter
Whenever possible, use a closed mesh that assembles over the cable end. If the cable end is not available, use a split mesh.
Select an eye style that suits your needs.
Grip Styles and Application:
Closed Mesh-Permanent Support, cable end available
Split Lace Closing-Permanent Support, cable end unavailable
Split Rod Closing-Temporary support, cable end unavailable
Standard Support Grips-Support vertical runs to 99 feet and loads to 600 LBS.
Heavy Duty Support Grips-Support vertical runs over 100 feet and loads over 600 LBS.
Service Drop Grips-Support light duty cable, fiber optic cable and service entrance cable.
Conduit Riser Grips-Support cable in rigid conduit.
Standard – Double Eye
Styles available: Closed mesh, Lace Closing, Rod Closing
Standard – Single Eye
Styles available: Closed mesh, Lace Closing, Rod Closing
Standard – Offset Eye
Styles available: Closed mesh, Lace Closing, Rod Closing
Standard – Universal Bale
Styles available: Closed mesh, Lace Closing, Rod Closing
Standard – Hook Eye
Styles available: Closed mesh, Lace Closing, Rod Closing
Heavy Duty Support
Styles available: Single eye, Closed mesh, Double weave; Double eye, Closed mesh, Double weave
Light Duty Service Drops
Styles available: Standard & Heavy Duty Single eye, Standard & Heavy Duty Universal Bale
Conduit Riser – Single Weave Closed Mesh
Conduit Riser – Double Weave Split Lace
Conduit Riser – Single Weave – Split Rod