Light Duty Service Drops
Amtec Service Drop Grips are used in a wide variety of light duty electrical applications such as service entrance, cable TV, telephone, fiber optics, etc., in sloping, vertical or horizontal positions.
The mesh is made from high grade, non-magnetic, tin coated bronze wire.
Amtec Service Drop Grips are easily installed, wide range, single and multi-weave mesh.
A stainless steel type 302/304 non-corrosive mesh for severe application is available upon request.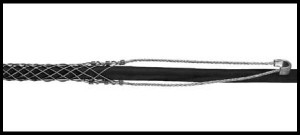 Standard, Single Eye Service Drops
Part




Number

Dia. Ra.

Description

Approx.




Breaking




Strength

Eye
Length

Mesh




Length

2216-001
.23-.31
SD-23
290 LBS.
4
3.75
2216-002
.32-.43
SD-32
290 LBS.
4
4.25
2216-003
.43-.56
SD-43
380 LBS.
6
5
2216-004
.56-.73
SD-56
600 LBS.
7
6
2216-005
.73-.85
SD-73
790 LBS.
7
6.75
2216-006
.85-1.00
SD-85
1020 LBS.
8
8
2216-007
1.00-1.25
SD-100
1020 LBS.
9
9.5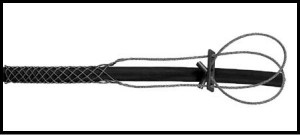 Standard, Universal Bail Service Drops
Part




Number

Dia. Ra.

Description

Approx.




Breaking




Strength

Eye




Length

Mesh




Length

2216-008
.23-.31
SD-23-UB
290 LBS.
8
3.75
2216-009
.32-.43
SD-32-UB
290 LBS.
10
4.25
2216-010
.43-.56
SD-43-UB
380 LBS.
12
5
2216-011
.56-.73
SD-56-UB
600 LBS.
13
6
2216-012
.73-.85
SD-73-UB
790 LBS.
14
6.75
2216-013
.85-1.00
SD-85-UB
1020 LBS.
14
8
2216-014
1.00-1.25
SD-100-UB
1020 LBS.
15
9.5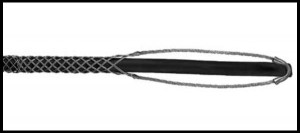 Heavy Duty, Single Eye Service Drops
Part




Number

Dia. Ra.

Description

Approx.




Breaking




Strength

Eye




Length

Mesh




Length

2217-001
.23-.31
SDH-23
500 LBS.
5
5
2217-002
.32-.43
SDH-32
500 LBS.
6
6.5
2217-003
.43-.56
SDH-43
870 LBS.
6
8
2217-004
.56-.73
SDH-56
1050 LBS.
7
9
2217-005
.73-.85
SDH-73
1390 LBS.
8
10.5
2217-006
.85-1.00
SDH-85
1790 LBS.
8
12
2217-007
1.00-1.25
SDH-100
1790 LBS.
9
14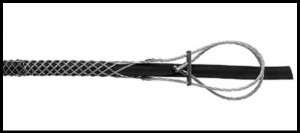 Heavy Duty, Universal Bail Service Drops
Part
Number
Dia. Ra.
Description
Approx.
Breaking
Strength
Eye
Length
Mesh
Length
2217-008
.23-.31
SDH-23-UB
500 LBS.
9
5
2217-009
.32-.43
SDH-32-UB
500 LBS.
10
6.5
2217-010
.43-.56
SDH-43-UB
870 LBS.
12
8
2217-011
.56-.73
SDH-56-UB
1050 LBS.
13
9
2217-012
.73-.85
SDH-73-UB
1390 LBS.
14
10.5
2217-013
.85-1.00
SDH-85-UB
1790 LBS.
14
12
2217-014
1.00-1.25
SDH-100-UB
1790 LBS.
15
14
Mesh Length at Nominal Diameter (Inches)