Strain Relief Grips NPT & NPS Fittings
Amtec strain relief grips are wide range mesh construction with single weave, galvanized steel mesh.
The one piece design is easily installed.
Amtec strain relief grips are used to connect flexible cord or bus drop cable to electrical enclosures, also prevents cord or cable pullout.
Insulating bushing available for non-insulated aluminum fittings.
Available with locknut and PVC gasket for a dirt and dust free seal.
Dry locations only.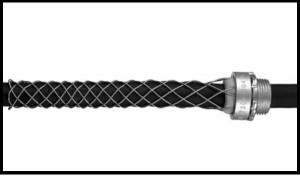 SR SERIES Non-Insulated Wide Range Strain Relief
Part




Number

Dia. Ra.

Description

Thread




Size NPT




(Inches)

Length




@ NOM




Dia.(In.)

7303-001
.24-.32
SR-022
1/2
3 1/4
7303-002
.32-.43
SR-030
1/2
3 3/4
7303-003
.43-.54
SR-040
1/2
4 3/4
7303-004
.54-.73
SR-052
3/4
6 1/2
7303-005
.73-.97
SR-070
1
7
7303-006
.97-1.25
SR-094
1 1/4
9


SRP SERIES Insulated Wide Range Strain Relief with Insulating Bushing
Part




Number

Dia. Ra.

Description

Mesh




Thread




Size (in.)

Length




Nom Dia

Dim. A




(Inches)

7303-008
.24-.32
SRP-022
1/2 N.P.S.
3 1/4
1
7303-009
.32-.43
SRP-030
1/2 N.P.S.
3 3/4
1
7303-010
.43-.54
SRP-040
1/2 N.P.S.
4 3/4
1
7303-011
.54-.73
SRP-052
3/4 N.P.S.
6 1/2
1
7303-012
.73-.97
SRP-070
1 N.P.S.
7
1 3/16
7303-013
.97-1.25
SRP-094
1 1/4 N.P.S.
9
1 3/16
7303-014
1.25-1.50
SRP-120
1 1/2 N.P.T.
11 3/4
1 3/16
7303-015
1.50-1.70
SRP-140
2 N.P.T.
13 1/4
1 3/8
7303-016
1.70-2.00
SRP-162
2 1/2 N.P.T.
13 1/2
1 1/2
7303-017
2.00-2.45
SRP-200
2 1/2 N.P.T.
13 3/4
1 1/2